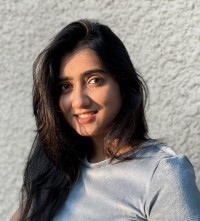 Ananta Chowdhury
PhD Student
chowdhu1 at myumanitoba.ca
Advisor: Andrea Bunt


About
I am a Ph.D. student in the Department of Computer Science at the University of Manitoba. I joined the HCI lab in 2018 and completed my master's degree from here in 2020. My research interest is Human-computer Interaction, more specifically, child-computer interaction. My research concentrates on designing innovative interactive technology for children. I also have an interest in the social aspects of human-robot interaction.
I completed my bachelor's degree from the University of Dhaka, Bangladesh, in 2016. After graduating, I served as a lecturer at the Daffodil International University in Bangladesh.
My hobbies include listening to music, singing, and traveling.
Projects
Publications
Ananta Chowdhury. Tutorials for Children by Children: Design and Evaluation of a Child-Centric Tutorial Authoring Tool. MSc Thesis (2020). University of Manitoba, Canada.