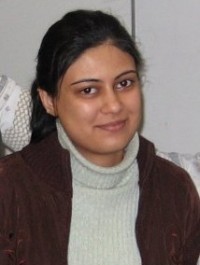 Erum Tanvir
Alumni
Advisor: Pourang Irani


About
MSc Thesis: Improving Cascading Menu Selections with Adaptive Activation Area
Publications
Erum Tanvir, Andrea Bunt, Andy Cockburn and Pourang Irani. 2011. Improving cascading menu selections with adaptive activation areas. International Journal of Human-Computer Studies, 69(11), 769-785.
Erum Tanvir. 2010. Improving Cascading Menu Selections with Adaptive Activation Area. Master's thesis, University of Manitoba.
Erum Tanvir, Jonathan Cullen, Pourang Irani and Andy Cockburn. 2008. Improving Selection in Cascading Pull-Down Menus. In Proceedings of the SIGCHI Conference on Human Factors in Computing Systems (CHI '08), 1381-1384.