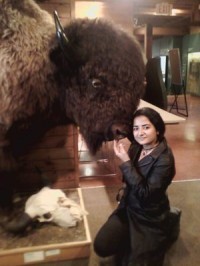 Hina Aman
Alumni
Advisor: Pourang Irani


About
For more information, please visit my home page
Publications
Hina Aman. 2014. Visualizing Geo-temporal Documents: An Application to Data from Crisis Maps. Master's thesis, University of Manitoba.
Hina Aman, Pourang Irani and Fereshteh Amini. "Revisiting Crisis Maps with Geo-Temporal Tag Visualization." Visualization Symposium (PacificVis), 2014 IEEE Pacific. IEEE, 2014.
Hina Aman, Pourang Irani and Hai-Ning Liang. 2012. A Review of Common Tasks Supported by Information Communication Technology for Times of Emergency. In Proceedings of the 9th international conference on Information Systems for Crisis Response and Management (ISCRAM 2012). Vancouver, Canada. ISCRAM.
Hina Aman, Pourang Irani, Hai-Ning Liang. A review of information communication technology applied on common tasks during times of emergency. ISCRAM 2012