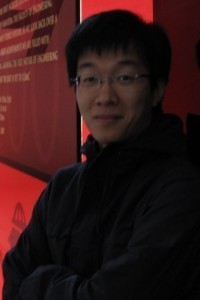 Hong Zhang
Alumni
Advisor: Pourang Irani


About
MSc Thesis: Evaluating Finger Orientation for Position Awareness on Multi-touch Tabletop System
Publications
Hong Zhang, Xing-Dong Yang, Barrett Ens, Hai-Ning Liang, Pierre Boulanger and Pourang Irani. 2012. See Me, See You: A Lightweight Method for Discriminating User Touches on Tabletop Displays. In Proceedings of the 30th international conference on Human factors in computing systems (CHI 2012). Austin, Texas. ACM, 2327-2336.
Hong Zhang. 2012. Evaluating Finger Orientation for Position Awareness on Multi-touch Tabletop System. Master's thesis, University of Manitoba.
Tyler J. Gunn, Hong Zhang, Ed Mak and Pourang Irani. 2009. An Evaluation of One-handed Techniques for Multiple-target Selection. In Proceedings of the 27th International Conference Extended Abstracts on Human Factors in Computing Systems (CHI EA '09), 4189-4194.