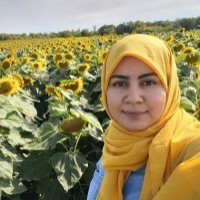 Mahya Maftouni
Alumni
Advisor: Andrea Bunt


About
I was born and grew up in Tehran, Iran. I completed my undergraduate and MSc degrees in software engineering at the Sharif University of Technology and worked as a full-stack developer for three years. I joined the UofM HCI lab in the fall of 2019 as a Master's student. I am interested in Gender HCI. Currently, my focus is on gender differences in participation in Online Q&A communities.
In my spare time, I enjoy solving jigsaw puzzles, biking and listening to podcasts.
Projects
Publications
Patrick Marcel Joseph Dubois, Mahya Maftouni, and Andrea Bunt. 2022. Towards More Gender-Inclusive Q&As: Investigating Perceptions of Additional Community Presence Information. Proc. ACM Hum.-Comput. Interact, 6, CSCW2, Article 466 (November 2022), 23 pages, https://doi.org/10.1145/3555567
Mahya Maftouni, Patrick Marcel Joseph Dubois, and Andrea Bunt. 2022. "Thank you for being nice": Investigating Perspectives Towards Social Feedback on Stack Overflow. In Proceedings of the 48th Graphics Interface Conference. Canadian Human-Computer Communications Society. https://openreview.net/forum?id=rrHU3gtETG9
Mahya Maftouni. Gender consideration in the design of online knowledge-sharing Q&A platforms. MSc Thesis (2022). University of Manitoba, Canada.
Patrick Marcel Joseph Dubois, Mahya Maftouni, Parmit K. Chilana, Joanna McGrenere and Andrea Bunt. 2020. Gender Differences in Graphic Design Q&As: How Community and Site Characteristics Contribute to Gender Gaps in Answering Questions. In Proceedings of the ACM on Human-Computer Interaction, Vol. 4, CSCW2, Article 113 (October 2020), 27 pages. https://doi.org/10.1145/3415184