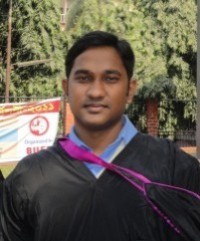 Zahid Hossain
Alumni
Advisor: Pourang Irani


Projects
Publications
Zahid Hossain. 2014. FlockViz: A Visualization Technique to Facilitate Multi-dimensional Analytics of Spatio-temporal Cluster Data. Master's thesis, University of Manitoba.
Amini, F., Rufiange, S., Hossain, Z., Ventura, Q., Irani, P., and McGuffin, M. J. "The Impact of Interactivity on Comprehending 2D and 3D Visualizations of Movement Data", IEEE Transactions on Visualization & Computer Graphics , no. 1, pp. 1, PrePrints, doi:10.1109/TVCG.2014.2329308. To be presented at IEEEVis 2014.
Zahid Hossain, Khalad Hasan, Hai-Ning Liang and Pourang Irani.. 2012. EdgeSplit: Facilitating the Selection of Off-Screen Objects.. In Proceedings of the 13th International Conference on Human-Computer Interaction with Mobile Devices and Services (MobileHCI 2012). San Francisco, CA. ACM.