Spatial Analytic Interfaces: Spatial User Interfaces for In-Situ Visual Analytics
Abstract
As wearable devices gain acceptance, we ask "What do user interfaces look like in a post-smartphone world?" and "Can these future interfaces support sophisticated interactions in a mobile context?" In stark contrast to the micro-interactions of current wearable interfaces lies visual analytics. A hallmark of such platforms is the ability to simultaneously view multiple linked visualizations of diverse datasets. We draw from visual analytic concepts to address the growing need of individuals to manage information on personal devices. We propose Spatial Analytic Interfaces to leverage the benefits of spatial interaction to enable everyday visual analytic tasks to be performed in-situ, at the most beneficial place and time. We explore the possibilities for such interfaces using head-worn display technology, to integrate multiple information views into the user's physical environment. We discuss current developments and propose research goals for the successful development of SUI for in-situ visual analytics.
Video
Publisher Link
http://dx.doi.org/10.1109/MCG.2016.38
Citation
Barrett Ens, Pourang Irani. 2016. Spatial Analytic Interfaces: Spatial User Interfaces for In-Situ Visual Analytics. IEEE Computer Graphics and Applications , vol.PP, no.99, pp.1-1.
Related Projects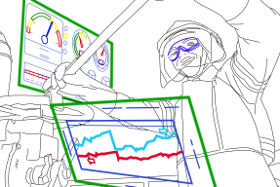 Authors


Professor
Canada Research Chair