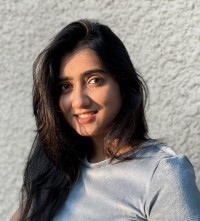 Ananta Chowdhury
PhD Student
chowdhu1 at myumanitoba.ca
Advisor: Andrea Bunt


About
I am a Ph.D. student in the Department of Computer Science at the University of Manitoba. I joined the HCI lab in 2018 and completed my master's degree from here in 2020. My research interest is Human-computer Interaction, more specifically, child-computer interaction. My research concentrates on designing innovative interactive technology for children. I also have an interest in the social aspects of human-robot interaction.
I completed my bachelor's degree from the University of Dhaka, Bangladesh, in 2016. After graduating, I served as a lecturer at the Daffodil International University in Bangladesh.
My hobbies include listening to music, singing, and traveling.
Projects
Publications
Ananta Chowdhury and Andrea Bunt. 2023. Co-Designing with Early Adolescents: Understanding Perceptions of and Design Considerations for Tech-Based Mediation Strategies that Promote Technology Disengagement. In Proceedings of the 2023 CHI Conference on Human Factors in Computing Systems (CHI '23), April 23–28, 2023, Hamburg, Germany. ACM, New York,NY, USA, 16 pages. https://doi.org/10.1145/3544548.3581134 (Accepted for publication)
Ananta Chowdhury and Andrea Bunt. 2022. Tutorials for Children by Children: Design and Evaluation of a Children's Tutorial Authoring Tool for Digital Art. In Proceedings of the 48th Graphics Interface Conference. Canadian Human-Computer Communications Society. https://openreview.net/forum?id=HzgpxFETf5 (Best Paper Award)
Ananta Chowdhury. Tutorials for Children by Children: Design and Evaluation of a Child-Centric Tutorial Authoring Tool. MSc Thesis (2020). University of Manitoba, Canada.