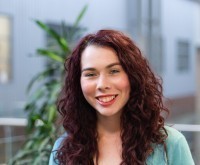 Danika Passler Bates
PhD Student
passlerd [at] myumanitoba.ca
Advisor: James E.Young


About
I completed my Bachelor of Computer Science at the University of Manitoba in the spring of 2021. Before starting my Masters, I did two summer research terms in the HCI lab. My research interests include Human-Robot interaction, social robotics, and domestic robots. In my research, I am investigating if a cuddly companion robot that I designed can help support people who feel that they are lonely.
Projects
Publications
Danika Lorraine Passler Bates. SnuggleBot: a Cuddly Companion Robot for Lonely People to use at Home. MSc Thesis (2023). University of Manitoba, Canada.
Danika Passler Bates, James E. Young. 2022. SnuggleBot: A simple cuddly companion robot prototype. In Proceedings of the 2nd International Workshop on Designerly HRI, at the ACM International Conference of Human Robot Interaction (HRI'22), 3 pages.
Danika Passler Bates, James E. Young. 2020. SnuggleBot: A Novel Cuddly Companion Robot Design. In Proceedings of the 8th International Conference on Human-Agent Interaction (HAI'20), November 10-13, 2020, Virtual Event, NSW, Australia. ACM, 3 pages. https://doi.org/10.1145/ 3406499.3418772