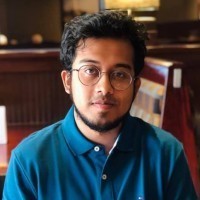 Rahatul Amin Ananto
Alumni
anantor_at_myumanitoba.ca
Advisor: James E.Young

Research Areas: Human-Robotics Interaction, Domestic Social Robots

About
I am a robotics enthusiast from Bangladesh with a vision to become an experimental roboticist. I completed my undergrad in Computer Science and Engineering from BRAC University, Bangladesh. During my undergrad, I worked on multiple projects that featured robotic systems and IoT devices. My undergraduate thesis was based on underwater robotics, and I was a core member of the BRACU DUBURI team (underwater autonomous vehicle team). After graduating, I worked as a Quality Assurance Engineer in two reputed companies in Bangladesh, Sourcetop Inc. and THERAP Bangladesh Ltd. Afterwards, in 2019, I joined the HRI Lab to work with social robots and explore the social aspect of the robotics field. My current research is with lonely individuals and social robots. I am exploring how a lonely person would adopt (or non-adopt) a domestic social robot in their own homes and how the robot impacts (or not impact) their general wellness, as well as loneliness. I also plan to pursue my Ph.D. in the HRI field and explore the unknowns of social robotics.
Projects
Publications
Rahatul Amin Ananto. Can Robots Help with Loneliness? An Exploration of Social Robot Adoption by Lonely Individuals. MSc Thesis (2022). University of Manitoba, Canada.
Rahatul A. Ananto, James E. Young. 2021. We Can Do Better! An Initial Survey Highlighting an Opportunity for More HRI Work on Loneliness. In the Companion of 2021 ACM/IEEE International Conference on Human Robot Interaction (HRI'21), March 8–11, 2021, Boulder, CO, USA. ACM, New York, NY, USA. 6 pages. https://doi.org/10.1145/3434074.3447213
Rahatul A. Ananto, James E. Young, "Robot Pets for Everyone: The Untapped Potential for Domestic Social Robots." In Proceedings of the 29th International Conference on Robot & Human Interactive Communication (RO-MAN 2020 WORKSHOP ON SOCIAL HUMAN-ROBOT INTERACTION OF HUMAN-CARE SERVICE ROBOTS). 2020.
Rahatul A. Ananto, Geiskkovitch, D.Y., James E. Young. 2020. Domestic Robots for Individuals Living with Loneliness: A Long-Term In-Home Interaction Study Design. In Proceedings of the 8th International Conference on Human-Agent Interaction (HAI '20), Australia. ACM, 2 pages. https://doi.org/10.1145/3406499.3418749