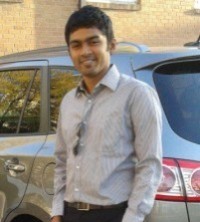 Srikanth Kirs S
Alumni
Email:Kirssri@cs.umanitoba.ca
Advisor: Pourang Irani


About
I am a masters student working with Dr.Irani. I finished my Bachelor's degree in Computer-science and Engineering from Anna University, Chennai, India.
Currently my research focus is on exploring See-through display's interactive capabilities and limitations of using such a device in the wild. More information about the project can be found on the can be found on the project page and the project's blog.
Projects
Publications
Srikanth S. Sridharan. 2014. A Color Blending Model and A Color Correction Algorithm for Additive Optical See-through Displays. Master's thesis, University of Manitoba.
Hincapié-Ramos, J.D., Ivanchuk, L., Sridharan, S.K. and Irani, P. 2014. SmartColor: Real-Time Color Correction and Contrast for Optical See-Through Head-Mounted Displays. In Proc. ISMAR '14. ACM. To Appear.
Sridharan, S.K., Hincapié-Ramos, J.D., Flatla, D.R. and Irani, P. 2013. Color correction for optical see-through displays using display color profiles. In Proceedings of the 19th ACM Symposium on Virtual Reality Software and Technology (VRST '13). ACM, New York, NY, USA, 231-240.