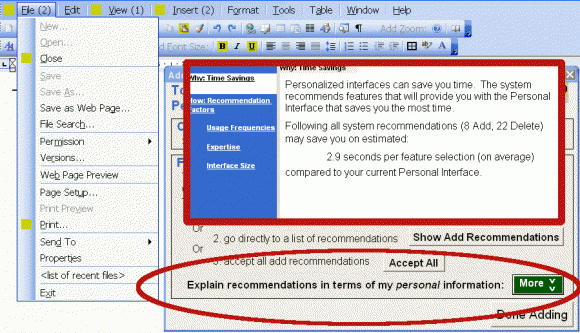 Explanation Interfaces in Intelligent Interactive Systems (2012)
One challenge with interfaces that adapt their appearance or behaviour to individual user characteristics is a lack of transparency in their underlying reasoning mechanisms. Since a transparency can lead to users having difficulty trusting and/or predicting system behaviour, this project explores the role of explanations in helping to mitigate these problems. Our studies to date have found that the utility of explanations depends highly on the context and the individual user.
Project Publications
Andrea Bunt, Matthew Lount, and Catherine Lauzon. 2012. Are explanations always important?: a study of deployed, low-cost intelligent interactive systems. In Proceedings of the 2012 ACM international conference on Intelligent User Interfaces (IUI '12), 169-178.
Andrea Bunt and Michael Terry (2009) Opportunities for user involvement within interface personalization. Proceedings of the IJCAI 2009 Workshop on Intelligence and Interaction.
Andrea Bunt, Cristina Conati, and Joanna McGrenere (2009) Mixed-initiative interface personalization as a case study in usable AI. In Artificial Intelligence, Special Issue on Usable AI, 30(4), 58-64
Andrea Bunt, Joanna McGrenere and Cristina Conati. 2007. Understanding the Utility of Rationale in a Mixed-Initiative System for GUI Customization. In Proceedings of the International Conference on User Modeling (UM 2007), 147-156.