Are Explanations Always Important? A Study of Deployed, Low-Cost Intelligent Interactive Systems
Abstract
Intelligent interactive systems (IIS) have great potential to improve users' experience with technology by tailoring their behaviour and appearance to users' individual needs; however, these systems, with their complex algorithms and dynamic behaviour, can also suffer from a lack of comprehensibility and transparency. We present the results of two studies examining the comprehensibility of, and desire for explanations with deployed, low-cost IIS. The first study, a set of interviews with 21 participants, reveals that i) comprehensibility is not always dependent on explanations, and ii) the perceived cost of viewing explanations tends to outweigh the anticipated benefits. Our second study, a two-week diary study with 14 participants, confirms these findings in the context of daily use, with participants indicating a desire for an explanation in only 7% of diary entries. We discuss the implications of our findings for the design of explanation facilities.
Publisher Link
http://doi.acm.org/10.1145/2166966.2166996
Citation
Andrea Bunt, Matthew Lount, and Catherine Lauzon. 2012. Are explanations always important?: a study of deployed, low-cost intelligent interactive systems. In Proceedings of the 2012 ACM international conference on Intelligent User Interfaces (IUI '12), 169-178.
Bibtext Entry

@inproceedings{Bunt:2012:EAI:2166966.2166996,
 author = {Bunt, Andrea and Lount, Matthew and Lauzon, Catherine},
 title = {Are explanations always important?: a study of deployed, low-cost intelligent interactive systems},
 booktitle = {Proceedings of the 2012 ACM international conference on Intelligent User Interfaces},
 series = {IUI '12},
 year = {2012},
 location = {Lisbon, Portugal},
 pages = {169--178},
 url = {http://doi.acm.org/10.1145/2166966.2166996},
 address = {New York, NY, USA},
} 
Related Projects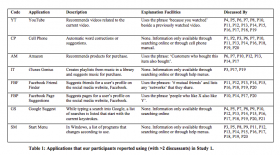 Authors


As well as: Catherine Lauzon