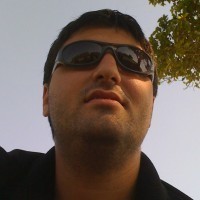 Roiy Shpaner
Alumni
Email: roiy@cs.umanitoba.ca
Advisor: Pourang Irani


About
My thesis work explores a method of video navigation using metadata input. I designed a new media metadata file format (MED). I implemented the format in the popular VLC Media Player. The format allows viewers to tag and annotate events in the video, play only the types of events they are interested in (customizing the video), and navigate quickly during playback. Screenshots are available here: http://imgur.com/a/X6kfy
I have also worked on the Jedi (puppet) Masters project that won first place in the People's Choice category at the UIST 2012 student competition.
Projects
Publications
Roiy Shpaner. 2014. Exploring and evaluating the effects of user-enhanced video browsing. Master's thesis, University of Manitoba.
Barrett Ens, Daniel Rea, Roiy Shpaner, Hadi Hemmati, James E. Young, Pourang Irani. 2014. ChronoTwigger: A Visual Analytics Tool for Understanding Source and Test Co-Evolution. In Proceedings of the 2nd IEEE Working Conference on Software Visualization (VISSOFT 2014). Victoria, Canada. IEEE, 117-126.