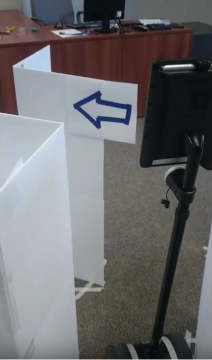 Changing Teleoperator Driving Behaviour (2017)
Racing video games give virtual cars different properties (acceleration, top speeds, traction, etc.) which can encourage different high level driving strategies. For example, a can may be given a (virtual) large heavy engine that has a high top speed but accelerates slowly. This may encourage a more cautious driving style: as collisions result in a slow down that requires a long period of accelerating back up to speed, drivers may become more cautious. We explore if we can use similar techniques to encourage different driving behaviours for teleoperated robots: we give the same robot different top speeds or acceration curves and observe if and how this can change the teleoperation strategy.
Project Publications
Daniel J. Rea, Mahdi Rahmani, Neil Bruce, James E. Young. "Tortoise and the Hare Robot: Slow and steady almost wins the race, but finishes more safely." In Proceedings of RO-MAN. IEEE. 2017 (to appear).