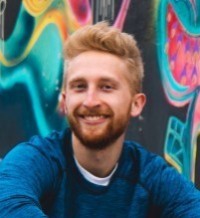 Bradley Rey
Alumni
reyb@myumanitoba.ca
Advisor: Pourang Irani


About
Hi, I'm Bradley, a PhD candidate at the University of Manitoba in the HCI Lab! I broadly study in-situ and on-the-go health data visualization and interaction for a range of wearables. Specifically, my thesis pertains to enabling effective transient data queries on smartwatches to allow for an increasingly complementary tool to the smartphone. As smartwatches are progressively collecting more and more complex health data, I strongly believe smartwatches have the capacity, beyond displaying default metrics, to provide a greater benefit to the end-user's health journey.
Publications
Fouad Alallah, Shariff Faleel, Yumiko Sakamoto, Bradley Rey, and Pourang Irani. "SSCA: Situated Space-time Cube Analytics." (2022).
Bradley Rey, Kening Zhu, Simon Tangi Perrault, Sandra Bardot, Ali Neshati, and Pourang Irani. 2022. Understanding and Adapting Bezel-to-Bezel Interactions for Circular Smartwatches in Mobile and Encumbered Scenarios. Proc. ACM Hum.-Comput. Interact. 6, MHCI, Article 201 (September 2022), 28 pages. https://doi.org/10.1145/3546736
Anuradha Herath, Bradley Rey, Sandra Bardot, Sawyer Rempel, Lucas Audette, Huizhe Zheng, Jun Li, Kevin Fan, Da-Yuan Huang, Wei Li, and Pourang Irani. 2022. Expanding Touch Interaction Capabilities for Smart-rings: An Exploration of Continual Slide and Microroll Gestures. In Extended Abstracts of the 2022 CHI Conference on Human Factors in Computing Systems (CHI EA '22). Association for Computing Machinery, New York, NY, USA, Article 292, 1–7. https://doi.org/10.1145/3491101.3519714
Sandra Bardot, Bradley Rey, Lucas Audette, Kevin Fan, Da-Yuan Huang, Jun Li, Wei Li, and Pourang Irani. 2022. One Ring to Rule Them All: An Empirical Understanding of Day-to-Day Smartring Usage Through In-Situ Diary Study. Proc. ACM Interact. Mob. Wearable Ubiquitous Technol. 6, 3, Article 100 (September 2022), 20 pages. https://doi.org/10.1145/3550315
S. A. Faleel, B. Raj Joshi and B. Rey, "Writely: Force Feedback for Non-Dominant Hand Writing Training," 2021 IEEE World Haptics Conference (WHC), 2021, pp. 340-340, doi: 10.1109/WHC49131.2021.9517209.
Sandra Bardot, Surya Rawat, Duy Thai Nguyen, Sawyer Rempel, Huizhe Zheng, Bradley Rey, Jun Li, Kevin Fan, Da-Yuan Huang, Wei Li, and Pourang Irani. 2021. ARO: Exploring the Design of Smart-Ring Interactions for Encumbered Hands. In Proceedings of the 23rd International Conference on Mobile Human-Computer Interaction (MobileHCI '21). Association for Computing Machinery, New York, NY, USA, Article 12, 1–11. DOI:https://doi.org/10.1145/3447526.3472037
Ali Neshati, Fouad Alallah, Bradley Rey, Yumiko Sakamoto, Marcos Serrano, and Pourang Irani. 2021. SF-LG: Space-Filling Line Graphs for Visualizing Interrelated Time-series Data on Smartwatches. In Proceedings of the 23rd International Conference on Mobile Human-Computer Interaction (MobileHCI '21). Association for Computing Machinery, New York, NY, USA, Article 5, 1–13. DOI:https://doi.org/10.1145/3447526.3472040. Honourable Mention Award
Ali Neshati, Bradley Rey, Ahmed Shariff Mohommed Faleel, Sandra Bardot, Celine Latulipe, and Pourang Irani. 2021. BezelGlide: Interacting with Graphs on Smartwatches with Minimal Screen Occlusion. In Proceedings of the 2021 CHI Conference on Human Factors in Computing Systems (CHI '21). Association for Computing Machinery, New York, NY, USA, Article 501, 1–13. DOI:https://doi.org/10.1145/3411764.3445201
Sandra Bardot, Sawyer Rempel, Bradley Rey, Ali Neshati, Yumiko Sakamoto, Carlo Menon and Pourang Irani. 2020. Eyes-Free Graph Legibility: Using Skin-Dragging to Provide a Tactile Graph Visualization on the Arm. In 11th Augmented Human International Conference (AH '20), May 27–29, 2020, Winnipeg, MB, Canada. ACM, NewYork, NY, USA, 8pages. https://doi.org/10.1145/3396339.3396344