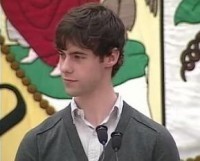 Derek Cormier
Alumni
Advisor: James E.Young


About
Undergraduate Research Associate.
Projects
Publications
Geiskkovitch, D. Y., Seo, S. H., Cormier, D., Young, J. E. (2016). Please continue, we need more data: an exploration of obedience to robots. ACM Transactions on Human-Robot Interaction.
Young, James E., Cormier, Derek. "Can Robots be Managers, Too?." Harvard Business Review. April 2, 2014. http://blogs.hbr.org/2014/04/can-robots-be-managers-too/. (invited)
Derek Cormier, Gem Newman, Masayuki Nakane, James E. Young, Stephane Durocher. Would You Do as a Robot Commands? An Obedience Study for Human-Robot Interaction. In Proceedings of the First International Conference on Human-Agent Interaction, iHAI'13.