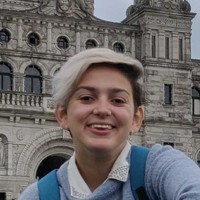 Adriana Lorena González
Alumni
Advisor: James E.Young


Projects
Publications
Gonzalez, AL, Geiskkovitch, DY, Young, JE. "Say What you Want, I'm not Listening! A conversational social robot behavior design for self-reflection that does not parse user speech." Journal of Interactive Media. In press.
Adriana Lorena González. Design and Implementation of a Novel Conversational Companion Robot For Older Adults. MSc Thesis (2022). University of Manitoba, Canada.
González, A.L. and Young, J.E. 2020. A Simple and Lightweight Algorithm for Social Robot Speech Turn Taking. University of Manitoba MSpace repository. (2020).
Adriana Lorena González. James E. Young. 2020. Please Tell Me About It: Self-Reflection Conversational Robots to Help with Loneliness. In Proceedings of the 8th International Conference on Human-Agent Interaction (HAI '20), November 10–13, 2020, Virtual Event, NSW, Australia. ACM, 2 pages. https://doi.org/10.1145/3406499.3418764
A.L. González, D. Y. Geiskkovitch and J. E. Young, "When Can I Get a Robot for my Home?: A Constrained Design Approach to Feasible, Deployable Companion," In Proceedings of the 29th International Conference on Robot & Human Interactive Communication (RO-MAN 2020 WORKSHOP ON SOCIAL HUMAN-ROBOT INTERACTION OF HUMAN-CARE SERVICE ROBOTS). 2020.
Annalena Nora Baecker, Denise Y. Geiskkovitch, Adriana Lorena González and James E. Young. 2020. Emotional Support Domestic Robots for Healthy Older Adults: Conversational Prototypes to Help With Loneliness. In Companion Proceedings of 2020 ACM International Conference on Human Robot Interaction (HRI'20), March 23–26, 2020, Cambridge, United Kingdom. ACM, 2 pages. https://doi.org/10.1145/3371382.3378279