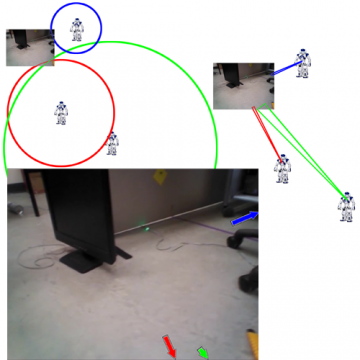 In-Feed Embedded Techniques for Visualizing Robot Team Member Locations
We present a set of mini-map alternatives for indicating the relative locations of robot team members in a teleoperation interface, and evaluation results showing that these can perform as well as mini-maps while being less intrusive. Teleoperation operators often work with a team of robots to improve task effectiveness. Maintaining awareness of where robot team members are, relative to oneself, is important for team effectiveness, such as for deciding which robot may help with a task, may be best suited to investigate a point of interest, or to determine where one should move next. We explore the use of established interface techniques from mobile computing for supporting teleoperators in maintaining peripheral awareness of robot team members' relative locations. We evaluate the non-trivial adoption of these techniques to teleoperation, comparing to an overview mini-map base case. Our results indicate that in-feed embedded indicators perform comparatively well to mini-maps, while being less obtrusive, indicating that they are a viable alternative for teleoperation interfaces.
Video
Project Publications
Stela H. Seo. Novel Egocentric Robot Teleoperation Interfaces for Search and Rescue. Ph.D. Thesis (2021). University of Manitoba, Canada.
Stela H. Seo, James E. Young, Pourang Irani. "Where are the robots? In-feed embedded techniques for visualizing robot team member locations," IEEE International Symposium on Robot and Human Interactive Communication, RO-MAN, 2017. Lisbon, Portugal.
Collaborators



Professor
Canada Research Chair
at University of British Columbia Okanagan Campus