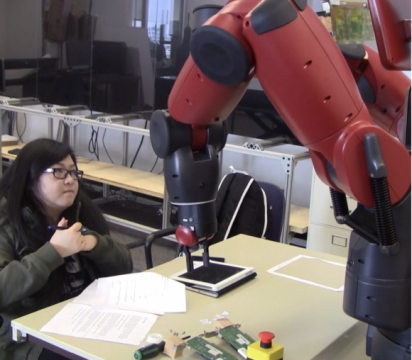 Inspector Baxter
Real robots are in real workplaces, working with people right now. Every day at work, people engage with and use complicated social and professional communication skills to keep co-workers happy, productive, and feeling valued. As robots are given roles that become more social, we need to investigate what kind of social skills robots should have. Can robots be cold and calculating, like a computer? Or will co-workers prefer robots to be warm and personable? This project aims to explore social human-robot interaction in an industrial setting.
Video
Project Publications
Amy Banh, Daniel J. Rea, James E. Young, Ehud Sharlin, "Inspector Baxter: The Social Aspects of Integrating a Robot as a Quality Inspector in an Assembly Line", In Proceedings of the 3rd ACM International Conference on Human-Agent Interaction (HAI '15). 2015.
Collaborators


As well as: Ehud Sharlin, Amy Banh, Johann Wentzel