Adapting the Laban Effort System to Design Affect-Communicating Locomotion Path for a Flying Robot
Abstract
People and animals use various kinds of motion in a multitude of ways to communicate their ideas and affective states, such as their moods or emotions. Further, people attribute affect and personalities to movements of even abstract entities based solely on the style of their motions, e.g., movement of a geometric shape (how it moves about) can be interpreted as being shy, aggressive, etc. In this thesis, we investigated how flying robots can leverage this locomotion-style communication channel for communicating their states to people. One problem in leveraging this style of communication in robot design is that there are no guidelines, or tools that Human-Robot Interaction (HRI) designers can leverage to author affect communicating locomotion paths for flying robots. Therefore, we propose to adapt the Laban Effort System (LES), a standard method for interpreting human motion commonly used in the performing arts, to develop a set of guidelines that can be leveraged by HRI designers to author affective locomotion paths for flying robots. We further validate our proposed approach by conducting a small design workshop with a group of interaction designers, where they were asked to design robotic behaviors using our design method. We conclude this thesis with an original adaption of LES to the locomotion path of a flying robot, and a set of design guidelines that can be leveraged by interaction designers for building affective locomotion path for a flying robot.
Publisher Link
http://hdl.handle.net/1993/22199
Citation
Megha Sharma. Adapting the Laban Effort System to Design Affect-Communicating Locomotion Path for a Flying Robot. M.Sc. Thesis (2013). University of Manitoba, Canada.
Related Projects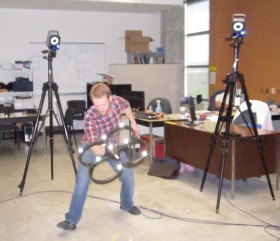 Authors