More Human than Human? A Visual Processing Approach to Exploring Believability of Android Faces
Abstract
The issue of believability is core to android science, the challenge of creating a robot that can pass as a near human. While researchers are making great strides in improving the quality of androids and their likeness to people, it is simultaneously important to develop theoretical foundations behind believability, and experimental methods for exploring believability. In this paper, we explore a visual processing approach to investigating the believability of android faces, and present results from a study comparing current-generation android faces to humans' faces. We show how android faces are still not quite as believable as humans, and provide some mechanisms that may be used to investigate and compare believability in future projects.
Publisher Link
http://dl.acm.org/citation.cfm?doid=2658861.2658893
Citation
Masayuki Nakane, James E. Young, and Neil D. B. Bruce. "More Human than Human? A Visual Processing Approach to Exploring Believability of Android Faces." In the proceeding of the 2nd ACM International Conference on Human-Agent Interaction, 2014.
Bibtext Entry
@inproceedings{Nakane:2014:MHH:2658861.2658893,
author = {Nakane, Masayuki and Young, James Everett and Bruce, Neil},
title = {More Human Than Human?: A Visual Processing Approach to Exploring Believability of Android Faces},
booktitle = {Proceedings of the Second International Conference on Human-agent Interaction},
series = {HAI '14},
year = {2014},
isbn = {978-1-4503-3035-0},
location = {Tsukuba, Japan},
pages = {377--381},
numpages = {5},
url = {http://doi.acm.org/10.1145/2658861.2658893},
doi = {10.1145/2658861.2658893},
acmid = {2658893},
publisher = {ACM},
address = {New York, NY, USA},
keywords = {android science, human-robot interaction, uncanny valley, visual processing},
}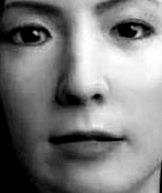 Authors


As well as: Neil D. B. Bruce