SnuggleBot: a Cuddly Companion Robot for Lonely People to use at Home
Abstract
We designed, prototyped, and deployed a novel companion robot for private in-home use that aims to promote engagement to support people living with loneliness. We identified and explored three key approaches to encourage engagement and provide comfort and prototyped a novel robot aiming to embody these principles: this resulted in SnuggleBot, a novel robot that is physically comforting, socially engaging, and requires care, to provide structure and increase engagement. We deployed our prototype unsupervised for a minimum of 7 weeks (with optional longer involvement up to 6 months) into the homes of seven people who live alone and self-identified as lonely. We reflect on our specific designs and how they promoted engagement and companionship. Our results indicate that robot designs incorporating physical comfort, social engagement, and requiring care have the potential to promote companionship, with many participants showing signs of bonding with the robot. Further, our design strategies were generally successful in that they promoted the behaviours and reactions that we intended. We found that most participants expressed that the robot is comfortable. The robot also promoted animism and engagement. Additionally, participants reported wellbeing benefits because of caring for the robot. This supports future research into robots developed with our design strategies, which can leverage our results to improve on our implementations of the design strategies.
Publisher Link
https://mspace.lib.umanitoba.ca/items/840cdd38-b087-4de5-96ac-7498affe4684
Citation
Danika Lorraine Passler Bates. SnuggleBot: a Cuddly Companion Robot for Lonely People to use at Home. MSc Thesis (2023). University of Manitoba, Canada.
Related Projects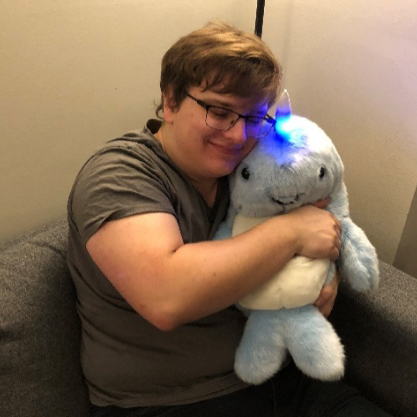 Authors