The Consumed Endurance Workbench: A Tool to Assess Arm Fatigue during Mid-Air Interactions
Abstract
Consumed Endurance (CE) is a metric that captures the degree of arm fatigue during mid-air interactions. Research has shown that CE can assist with the design of new and minimally fatiguing gestural interfaces. We introduce the Consumed Endurance Workbench, an open source application that calculates CE in real time using an off-the-shelf skeleton tracking system. The CE Workbench tracks a person's arm as it is moved in mid-air, determining the forces involved and calculating CE over the length of the interaction. Our demonstration focuses on how to use the CE Workbench to evaluate alternative mid-air gesture designs, how to integrate the CE Workbench with existing applications, and how to prepare the CE data for statistical analysis. We also demonstrate a mid-air text-entry layout, SEATO, which we created taking CE as the main design factor.
Download
You can download the CE workbench on GitHub:
https://github.com/hcilab-um/ArmFatigueCE
Video
Citation
Hincapié-Ramos, J.D., Guo, X., and Irani, P. 2014. The Consumed Endurance Workbench: A Tool to Assess Arm Fatigue during Mid-Air Interactions. In Proc. DIS '14 Demos. ACM. To Appear.
Related Projects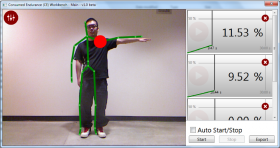 Authors


Professor
Canada Research Chair
at University of British Columbia Okanagan Campus