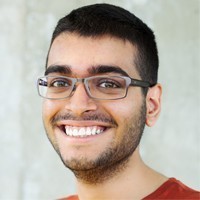 Diljot Singh Garcha
Undergraduate Student
Photo Credit: Kira Koop

External Website ↗
Advisor: James E.Young


Projects
Publications
Elaheh Sanoubari, Stela H. Seo, Diljot S. Garcha, James E. Young, Verónica Loureiro-Rodríguez. "Good Robot Design or Machiavellian? An in-the-wild robot leveraging minimal knowledge of passersby's culture". In Proceedings of alt.HRI track, ACM/IEEE International Conference on Human-Robot Interaction. 2019.
Thiessen, R., Rea, D. J., Garcha, D. S., Cheng, C.,Young, J. E. (2019). Infrasound for HRI: A Robot Using Low-Frequency Vibrations to Impact How People Perceive its Actions. In Proceedings of the 14th ACM/IEEE International Conference of Human-Robot Interaction.
Elaheh Sanoubari, Denise Y. Geiskkovitch, Diljot S. Garcha, Shahed A. Sabab, Kenny Hong, James E. Young, Andrea Bunt, Pourang Irani, "Subliminal Priming in Human-Agent Interaction: Can Agents Use Single-Frame Visuals in Video Feeds to Shape User Perceptions?" , In Proceedings of the 6th ACM International Conference on Human-Agent Interaction (HAI '18). 2018.