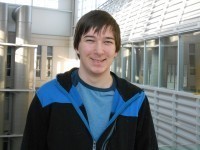 Patrick Dubois
PhD Student
Advisor: Andrea Bunt


Projects
Publications
Patrick Dubois, Daniel J. Rea, Kevin Hoang, Meghan Chua, Danielle King, Corey King, James E. Young and Andrea Bunt. Conveyor: A Dual-Task Paradigm for Studying VR Dialogue Interfaces. Graphics Interface (GI'18). 2018. Poster. (Best Poster Award)
Patrick Dubois, Volodymyr Dziubak, Andrea Bunt. Tell Me More! Soliciting Reader Contributions to Software Tutorials. Proceedings of Graphics Interface (GI'17). 2017. (Best Paper Award)
Patrick Dubois. Soliciting Reader Contributions to Software Tutorials. M.Sc. Thesis (2017). University of Manitoba, Canada.
V. Dziubak, P. Dubois, A. Bunt, M. Terry. 2016. Switter: Supporting Exploration of Software Learning Materials on Social Media. ACM SIGCHI Conference on Designing Interactive Systems - DIS'16
Andrea Bunt, Patrick Dubois, Ben Lafreniere, Michael Terry, and David Cormack (2014) TaggedComments: Promoting and Integrating User Comments in Online Application Tutorials. In Proceedings of the ACM Confererence on Human Factors in Computing Systems (CHI 2014), pp. 4037-4046.
Patrick Dubois, Andrea Bunt, Matthew Lount, Ben Lafreniere and Michael Terry. Improving Tutorial Selection and Use Through Enhanced User Commenting Facilities. GRAND 2013, GRAND NCE Annual Conference, poster.