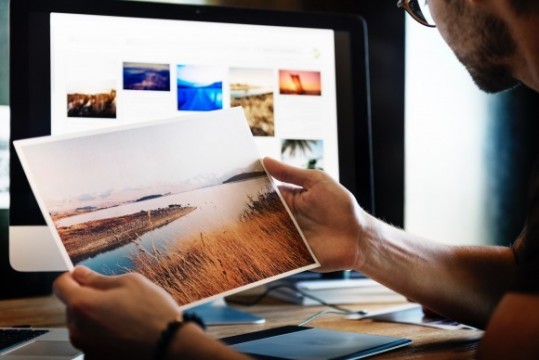 Supporting Graphical Designers' Inspiration Seeking Practices via Software Tools
Inspiration seeking represents an ill-defined process of seeking for something, but without knowing what exactly you are looking for. In graphic design, inspiration seeking is often associated with the process of looking for ideas for a new design project. For example, when starting a new design project, graphic designers often research examples of other designs to see how other designers approached similar design problems. This type of inspiration seeking allows the designers to compare pros and cons of different design approaches, which helps them to choose the most suitable design direction for their project. Inspiration seeking can also be more structured, for example, when a graphic designer has an initial high-level vision of a design idea and is seeking inspiration to refine it. Even though such a scenario is more defined than the exploratory inspiration seeking mentioned earlier, it is still an ill-defined process, as the high-level design direction might evolve into one of the numerous specific design ideas. Graphic designers also seek inspiration for purposes other than ideation, such as to improve one's design skills. For example, graphic designers often seek opportunities to learn new design techniques, to stay up-to-date with latest design trends, and to improve their proficiency with design software, such as Adobe Photoshop, Adobe Illustrator, and Bohemian Sketch.
Project Publications
Volodymyr Dziubak. Supporting Graphic Designers' Online Inspiration Seeking Practices via Software Tools. Ph.D. Thesis (2019). University of Manitoba, Canada.
Dziubak, V., & Bunt, A. (2018, June). Prism: Enhancing Graphic Designers' Visual Research with Interactive Search Trails. In Proceedings of the 2018 on Designing Interactive Systems Conference 2018 (pp. 1283-1294). ACM.
Dziubak, V. and Bunt, A. (2017) Designing for curiosity-driven software learning. In Workshop on Designing for Curiosity, CHI 2017, 2 pages.
Dziubak, V. and Bunt, A. Living on the edge: supporting continuous knowledge seeking among professional digital artists. In Workshop on Digital Craftsmanship: HCI Takes on Technology as an Expressive Medium, DIS 2016.
Dziubak, V., Dubois, P., Bunt, A., & Terry, M. (2016, June). Switter: Supporting Exploration of Software Learning Materials on Social Media. In Proceedings of the 2016 ACM Conference on Designing Interactive Systems (pp. 1209-1220). ACM.
Collaborators



As well as: Michael Terry