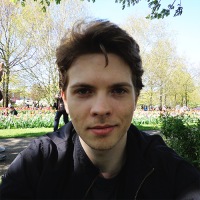 Volodymyr Dziubak
PhD Student
Advisor: Andrea Bunt


About
I am a Ph.D. student under Prof. Andrea Bunt in the University of Manitoba. My home country is Ukraine. My academic background is a mix of Applied Mathematics (B.Sc.) and Computer Science (M.Sc.).
Projects
Publications
Volodymyr Dziubak, Ben Lafreniere, Tovi Grossman, Andrea Bunt, George Fitzmaurice (2018)
Maestro: Designing a System for Real-Time Orchestration of 3D Modeling Workshops
UIST 2018 Conference proceedings:
ACM Symposium on User Interface Software & Technology
12 pages
V. Dziubak, A. Bunt. 2018. Prism: Enhancing Graphic Designers' Visual Research with Interactive Search Trails. ACM SIGCHI Conference on Designing Interactive Systems - DIS'18
Patrick Dubois, Volodymyr Dziubak, Andrea Bunt. Tell Me More! Soliciting Reader Contributions to Software Tutorials. Proceedings of Graphics Interface (GI'17). 2017. (Best Paper Award)
V. Dziubak, P. Dubois, A. Bunt, M. Terry. 2016. Switter: Supporting Exploration of Software Learning Materials on Social Media. ACM SIGCHI Conference on Designing Interactive Systems - DIS'16
Khan, Md Adnan Alam, Volodymyr Dziubak, and Andrea Bunt. "Exploring Personalized Command Recommendations based on Information Found in Web Documentation." Proceedings of the 20th International Conference on Intelligent User Interfaces. ACM, 2015.