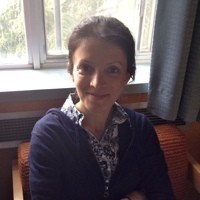 Fereshteh Amini
Alumni

External Website ↗
Advisor: Pourang Irani


About
I am a Ph.D. candidate at the Department of Computer Science, University of Manitoba. I work as a research assistant in the Human-Computer Interaction Lab under the supervision of Dr. Pourang Irani. I design and conduct quantitative and qualitative research on information visualization tools and techniques for data storytelling to broad audiences. Currently, I am finishing up my thesis and getting ready to defend while wrapping up some side projects.
During my Phd program, I have had the chance to work with several great researchers around the world. I have also completed research internships at Tableau Inc. under the supervision of Dr. Robert Kosara in 2017, and Microsoft Research under the supervision of Dr. Nathalie Hery Riche in 2016.
Prior to joining the HCI lab at the University of Manitoba for my PhD in 2012, I received my Master's degree in 2008 in computer science from University of Manitoba with several publications as journal articles, book chapters, and in conference proceedings. Immediately after graduation, I started working at IDERS Inc. (GE Transport), Manitoba, Canada, where I worked as a user interface developer and in a team lead position for more than 4 years.
Projects
Publications
Fereshteh Amini, Nathalie Henry Riche, Bongshin Lee, Jason Leboe-McGowan, and Pourang Irani. 2018. Hooked on data videos: assessing the effect of animation and pictographs on viewer engagement. In Proceedings of the 2018 International Conference on Advanced Visual Interfaces (AVI '18). ACM, New York, NY, USA, Article 21, 9 pages. DOI: https://doi.org/10.1145/3206505.3206552
F. Amini, M. Brehmer, G. Bolduan, C. Elmer, and B. Wiederkehr. "Book chapter: Evaluating Data-Driven Stories and Storytelling Tools". (CRC Press), 2017. (To appear)
Fereshteh Amini, Khalad Hasan, Andrea Bunt, and Pourang Irani. Data Representations for In-Situ Exploration of Health and Fitness Data. In Proceedings of the 11th EAI International Conference on Pervasive Computing Technologies for Healthcare (PervasiveHealth 2017), Barcelona, Spain. ACM. (To appear)
F. Amini, N. H. Riche, B. Lee, A. M. Hernández, and P. Irani. Authoring Data-Driven Videos with DataClips. To appear in IEEE Transactions on Visualization and Computer Graphics, InfoVis 2016.
S. K. Badam, F. Amini, N. Elmqvist, and P. Irani. Proxemic Lens: Multi-User Visual Exploration using Proxemics and Gestural Interaction. To appear in IEEE Transactions on Visualization and Computer Graphics, VAST 2016.
Amini, F., Riche, N. H., Lee, B., Hurter, C., and Irani, P. Understanding Data Videos: Looking at Narrative Visualization through the Cinematography Lens. Proc. CHI: SIGCHI Conference on Human Factors in Computing System, 2015. 23% acceptance rate.
Amini, F., Rufiange, S., Hossain, Z., Ventura, Q., Irani, P., and McGuffin, M. J. "The Impact of Interactivity on Comprehending 2D and 3D Visualizations of Movement Data", IEEE Transactions on Visualization & Computer Graphics , no. 1, pp. 1, PrePrints, doi:10.1109/TVCG.2014.2329308. To be presented at IEEEVis 2014.
Hina Aman, Pourang Irani and Fereshteh Amini. "Revisiting Crisis Maps with Geo-Temporal Tag Visualization." Visualization Symposium (PacificVis), 2014 IEEE Pacific. IEEE, 2014.