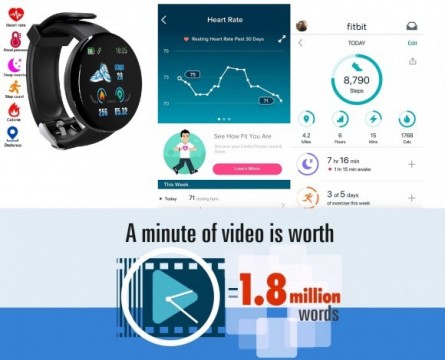 Exploration of Persuasive Data Videos; users' affects and their personality traits
Various personal health data are becoming available due to the advancements in tracking devices and applications (e.g., smart watches, wrist bands). These health trackers record useful information to their users (e.g., heart rate, steps taken, calories burnt, sleep patterns). However, users of such technologies usually do not benefit fully from the data presented to them, unfortunately. This is because existing data representation approaches often lack the power to "capture" and "convey" the important insights of the data to lay people (i.e., users) to comprehend and take actions upon. We believe that we can expand the role of modern technology further to present collected data in a meaningful way. Specifically, we aim to deliver "actionable intelligence" to the users. For this, we plan to investigate the effectiveness of data videos. Data videos or animated infographics are increasingly gaining popularity as a means to tell stories with data in an easy and engaging way. Viewers of data videos experience emotional connections with the videos as they get engaged with the story. Further, research show that affects/emotions play an important role in attitude change. Thus, we believe adding affective components in data videos will enhance its potential in attitude change capability. Finally, we plan to take individual differences (i.e., personality traits) into account in developing message structures.
Objective:
Our objective is to explore data videos in terms of their effects on the users' affect, along with their personality traits to improve the persuasive capability of data videos. Our ultimate goal is to promote users' attitude change toward healthier lifestyle by utilizing data videos.
Collaborators



Professor
Canada Research Chair