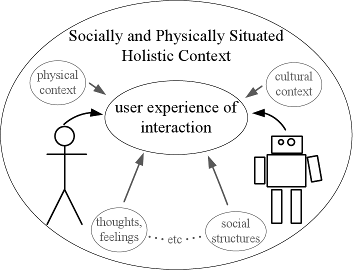 Sociological Context of Human-Robot Interaction (2011)
This project explores how various facets of the social context around interacting with robots influences human-robot interaction and its practictioners, spanning from re-evaluating technology acceptance models, to unpacking the various kinds of social interactions that occur, to designing evaluation techniques that focus on the holistic interaction context.
Project Publications
James E. Young, JaYoung Sung, Amy Voida, Ehud Sharlin, Takeo Igarashi, Henrik Christensen, and Rebecca Grinter. Evaluating human-robot interaction: Focusing on the holistic interaction experience. International Journal on Social Robotics, 2011, 3(1). Springer.
James E. Young, Richard Hawkins, Ehud Sharlin, and Takeo Igarashi. Toward Acceptable Domestic Robots: Applying Insights from Social Psychology. Inaugural Issue of the International Journal on Social Robotics 1(1) (Jan 2009). Springer
James E. Young, Ehud Sharlin, Takeo Igarashi. The Concept of a Robot. In Proceedings of the ACM/IEEE Human-Robot Interaction Pioneers Workshop, 2008. Pioneers '08, Amsterdam, Netherlands, March 12-15, 2008
Collaborators

As well as: Ehud Sharlin, Richard Hawkins, JaYoung Sung, Takeo Igarashi, Amy Voida, Henrik I. Christensen, Rebecca E. Grinter