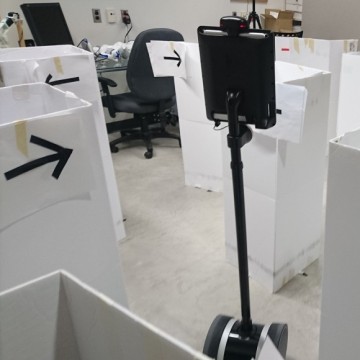 Influencing Operator Perceptions and Behavior during Teleoperation (2018)
Racing video games use a variety of techniques to affect a player's driving style and experience. For example, a can may be given a (virtual) large heavy engine that has a high top speed but accelerates slowly, which may encourage certain styles of driving. Further, games give different types of virtual feedback to give the impression of a car moving faster, or driving better. We explore if we can use similar techniques to encourage different driving behaviours for teleoperated robots; we explore if changes to a robot's driving properties such as speed can encourage different strategies, and we investigate if we can use virtual design cues (e.g. feedback without actually changing the robot) to prime operators to believe a robot is faster or safer.
Video
Project Publications
Daniel J. Rea, James E. Young. "It's All in Your Head: using priming to shape an operator's perceptions and behavior during teleoperation." In Proceedings of Human-Robot Interaction. ACM. 2018.
Daniel J. Rea, Mahdi Rahmani, Neil Bruce, James E. Young. "Tortoise and the Hare Robot: Slow and steady almost wins the race, but finishes more safely," IEEE International Symposium on Robot and Human Interactive Communication, RO-MAN, 2017. Lisbon, Portugal.