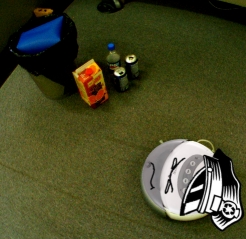 Cartoon Interfaces for Robots (2007)
This project explores how techniques and methods from cartooning can be used by robots for communication with people. From placing simple cartoon art on the robot itself, to around its body, or even left behind in the environment, these techniques are easy to understand for people and greatly broaden a robot's communication repertoire.
What is Jeeves?
a test bed for a new way to interact with robots
uses cartoon art to represent the robot's state
adds character and personality
In addition to gestures and speech, people use methods such as the written word or drawings for communication. These methods can be used by robots for expression and communication: cartoon art, the simplified artistic and visual language found in comic books and animated cinema, can provide powerful expression mechanisms for robots
As robots continue to enter everyday environments of everyday (non robotic expert!) people, it is crucial that we make them easy and intuitive for people to work with
Why Cartoon Art?
visually simple
very expressive
widely understood!
Cartoon art provides a language that offers robots a wide range of expression that people understand and can relate to.

What kind of cartoon art? There really is no limit or boundaries on what can be used. However, we outline the following:
icons and signs
varying text styles
exaggerated / simplified facial expressions and gestures
Project Publications
James E. Young, Ehud Sharlin, Takeo Igarashi. What is Mixed Reality, anyway? Considering the boundaries of mixed reality in the context of robots. In Mixed Reality and Human-Robot Interaction, Springer (invited). 2010.
Nicolai Marquardt, James Young, Ehud Sharlin, and Saul Greenberg. 2009. Situated messages for asynchronous human-robot interaction. In Adjunct Proceedings (late-breaking reports) of the 4th ACM/IEEE international conference on Human robot interaction (HRI '09). ACM, New York, NY, USA, 301-302. DOI=10.1145/1514095.1514186 http://doi.acm.org/10.1145/1514095.1514186
James E. Young, Min Xin, and Ehud Sharlin. Robot Expressionism through Cartooning. In proceedings of the ACM/IEEE International Conference on Human-Robot Interaction 2007. ACM HRI '07, Washington D.C., USA, March 9-11, 2007, pages 309-316, ACM Press
James E. Young, Ehud Sharlin, and Jeffrey E. Boyd. Implementing Bubblegrams: The Use of Haar-like Features for Human-Robot Interaction. In Proceedings of the IEEE Conference on Automation Science and Engineering, 2006. IEEE CASE '06, Shanghai, China, October 8-10, 2006, pages 308--313, IEEE Computer Society Press.
James E. Young and Ehud Sharlin. Sharing Spaces with Robots: an Integrated Environment for Human-Robot Interaction. In Proceedings of the 1st International Symposium on Intelligent Environments, 2006. ISIE '06, Cambridge, UK, April 5–7, 2006, pages 103–110, Cambridge, UK, April 2006. Microsoft Research Ltd., Microsoft Research Ltd. Press
Collaborators

As well as: Min Xin, Nicolai Marquardt, Jeff Boyd, and Ehud Sharlin