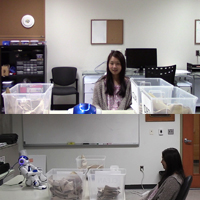 Rapport Strategies With a Collaborative Robot
Modern industrial robots are increasingly moving toward collaborating with people on complex tasks as team members, and away from working in isolated cages that are separated from people. Collaborative robots are programmed to use social communication techniques with people, enabling human team members to use their existing inter-personal skills to work with robots, such as speech, gestures, or gaze. One particularly important aspect of human–human teamwork is rapport building: these are everyday social interactions between people that help to develop professional relationships by establishing trust, confidence, and collegiality, but which are formally peripheral to a task at hand.
In this project, we developed an origianl scenario design specifically created for exploring gender-related issues surrounding collaborative human-robot teams on assembly lines. Our methodology is grounded squarely in the need for increased gender work in human-robot interaction. As with most research in social human-robot interaction, investigating and exploring gender issues relies heavily on an evaluation methodology and scenario that aims to maximize ecological validity, so that the lab results can generalize to a real-world social scenario.
Furthermore, we investigated how and if people apply similar rapport-building behaviors to robot collaborators. We synthesized existing human–human rapport knowledge into an initial human–robot interaction framework; this framework includes verbal and non-verbal behaviors, both for rapport building and rapport hindering, that people can be expected to exhibit. We reported on a qualitative study that investigates how people use rapport hindering or building behaviors in our industrial scenario, which reflects how people may interact with robots in industrial settings.
Project Publications
Stela H. Seo, Keelin Griffin, James E. Young, Andrea Bunt, Susan Prentice, Veronica Loureiro-Rodríguez. "Investigating people's rapport building and hindering behaviors when working with a collaborative robot," International Journal of Social Robotics, 2018. Springer.
https://doi.org/10.1007/s12369-017-0441-8
Stela H. Seo, Jihyang Gu, Seongmi Jeong, Keelin Griffin, James E. Young, Andrea Bunt, and Susan Prentice. 2015. Women and men collaborating with robots on assembly lines: designing a novel evaluation scenario for collocated human-robot teamwork. In Proceedings of the third international conference on Human-agent interaction (HAI '15). ACM, Daegu, Kyungpook, Republic of Korea. DOI=10.1145/2814940.2814948 http://dx.doi.org/10.1145/2814940.2814948
Collaborators



As well as: Jihyang Gu, Seongmi Jeong, Keelin Griffin, Susan Prentice, and Verónica Loureiro-Rodríguez